Yards Apart from the competition
The seeds for my career in landscaping were planted back in 2004. I had just graduated from high school. While my friends were weighing their options for what to do next, I suddenly found my options limited with the news I was about to become a father. I needed to find work right away, and took a job with a local landscaping company.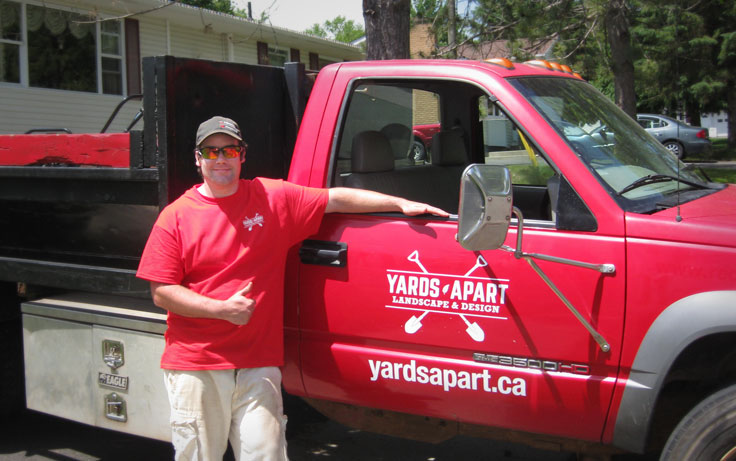 At the time, it was just a job, but something about landscaping clicked with me. I loved the challenge of taking a property that was ordinary or even unsightly, and turning it into something to be proud of.
While at Allgreen, I had the wonderful fortune to work with a great mentor who said I had a gift, and encouraged me to go further. He taught me lots, nurtured my interest, and he inspired me.
The landscape bug had taken hold.
I quickly rose through the company to junior then senior foreman, and spent the off season studying and taking seminars and workshops offered through the Canadian Landscape Association. I earned my CLT (certified landscape technician) and became one of the first people in the province to earn journeyman status in landscaping. In fact I am often a judge for those challenging their landscape certifications, held spring and fall at the Agricultural College in Truro. Somewhere along the road, landscaping ceased to be just a job; it had become a passion.
In 2014 I moved from Allgreen to Green FX. My thinking was that while Allgreen is a great company, Green FX had a great reputation too, but it was smaller and so afforded me the opportunity to be in charge of more technically challenging projects.
It as well was a satisfying experience working with some great people and giving customers yards they could be proud of, but it was time to strike out on my own. Encouraged by colleagues, customers and friends, and with a desire to build a solid future for myself and the love of my life, my boy Noah, this year I decided to take the plunge into my own business.
And so Yards Apart Landscape & Design was born.
My philosophy for business is pretty simple – work with people who share my passion and who are willing to learn and improve, treat them with respect, have true conversations with customers so they understand what's possible and I know exactly what they want, and give them that at a cost that is fair and reasonable.
About the name – I chose Yards Apart because I see that as not only a name but also a promise. We'll convert your property to one that is Yards Apart from our competition, and from the neighbours. Sound good?
Sincerly,
Alex Matheson